Meet Our Team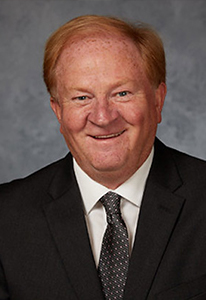 Philip D. Miller
DVM
General Practitioner Dr. Philip Miller has cared for animals at The Veterinary Clinic, P.C. since 1975.

Dr. Miller grew up on a family farm and was always fascinated by the work the local veterinarians performed on his family's livestock. This interest, combined with his participation in 4-H and his love for all animals, helped lead him to a career in veterinary medicine. Dr. Miller finds caring for pets to be very rewarding and enjoys educating pet owners and farmers about animal health care.

As an undergraduate, Dr. Miller attended Iowa State University and majored in Pre-Veterinary Medicine. He continued his education at Iowa State University College of Veterinary Medicine and was awarded his Doctorate of Veterinary Medicine in 1975.

Small animal internal medicine is among his many professional interests. Dr. Miller is a member of the Iowa Veterinary Medical Association and the American Veterinary Medical Association.

Dr. Miller and his wife, Connie, are the proud parents of four adult children, Andy, Dan, Jane and Joe. Dr. Miller is the former Director & former President of the Fairfield Community School District Board of Education. He also previously served in the Iowa legislature, representing House District 82. Dr. Miller is an active member of the First United Methodist Church of Fairfield. In his free time, he enjoys reading, doing yard work, following Cyclone sports, and most of all, spending time with his grandchildren.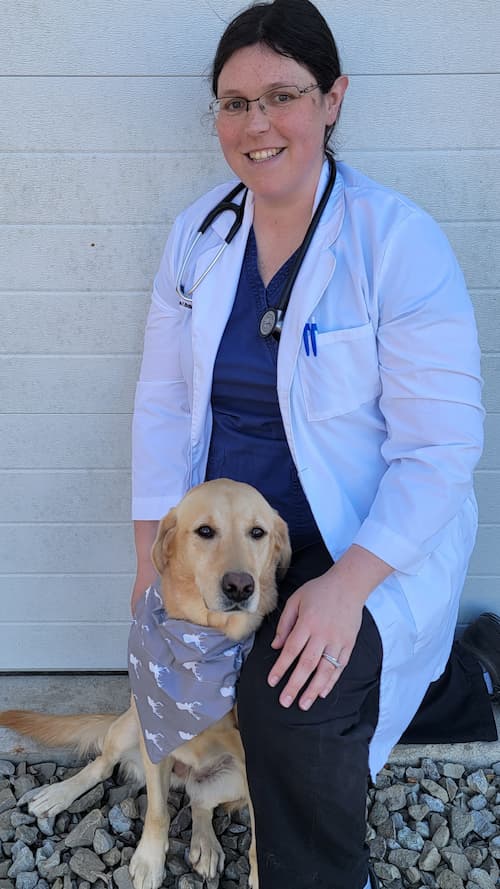 Dr. Breanna Estle
DVM
Dr. Estle started as a veterinarian at The Veterinary Clinic, P.C. in 2022. She began her career of working with animals as a kennel attendant at The Veterinary Clinic while she was in high school. Dr. Estle enjoys caring for animals of all kinds. She loves working together with their families to keep everyone happy and healthy. Dr. Estle is originally from Lockridge and graduated from Fairfield High School in 2009. After high school, she attended Iowa State University where she earned her Bachelor's Degree in Animal Science in 2013. Dr. Estle graduated from Iowa State University College of Veterinary Medicine in 2017. While in veterinary school, Dr. Estle also attended the Chi Institute in Reddick, Florida where she earned her Certification in Veterinary Acupuncture. Dr. Estle and her husband, Brandon, have a little boy, Wallace, and are excited for another baby on the way. Her whole family loves animals and have many in the family including two dogs, five cats, three Kune Kune pigs, and a turtle. Her hobbies include sewing, cake decorating, and all things Disney.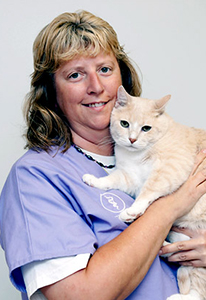 Deanna Chapuis
Veterinary Technician
Deanna Chapuis has been a veterinary technician at The Veterinary Clinic, P.C. since 1990. She is responsible for dental procedures on small animals and helping the veterinarians. Deanna enjoys working with the caring staff and veterinarians and likes the unique nature of working with animals. She is the foster mom to a yellow lab named Maci and her feline companion, Oscar. Golfing, canoeing and kayaking on the river, watching sports and spending time with her family are among Deanna's favorite pastimes. Jara Vroman
Veterinary Technician
Jara Vroman joined the medical team at The Veterinary Clinic, P.C. in May 2016. As a veterinary technician, she is responsible for filling prescriptions, cleaning, assisting the veterinarians, bringing in outpatients, discussing animal care and educating clients. Jara is hardworking and friendly, and her favorite part of the job is helping both animals and their owners.

"Everyone is super-friendly at the clinic," Jara says. "The clinic has a smooth work flow and everyone gets along with everyone."

In 2013, Jara earned her Veterinary Assistant Certificate from Black Hawk College. She went on to study at Muscatine Community College where she graduated in May 2016 with her Associate degree in Veterinary Technology. Jara is currently working on taking her national board exam to become a registered veterinary technician.

At home, Jara has two Basset Hounds, Willie and Beamer and 2 domestic shorthair rescue cats named, Olivia and Shadow. Jara enjoys crafts, fishing, motorcycle riding, camping, traveling, shopping and spending time with her family. Rosa Goana
Kennel
Bio coming soon! Lillian Haynes
Kennel
Bio coming soon! Ashlynn Groom
Hospital Manager
Bio coming soon! Diane Yule
Receptionist
Bio coming soon!